It is an image etched in Myanmar's collective memory of repression and loss: a middle-aged man holding a camera, lifted off his feet by a shot fired by a soldier at point-blank range as protesters flee in panic. He rolls onto his back, fatally wounded, still holding his camera up in one hand. A Reuters photographer would later win a Pulitzer prize for capturing that moment.
The man was Kenji Nagai, a veteran Japanese video journalist. He was killed on 27 September 2007, at the height of the so-called Saffron Revolution, mass protests led by Buddhist monks in several cities in Myanmar against a military regime which had ruled for 45 years and run the economy into the ground.
His camera, missing for 16 years, has now resurfaced, bringing some closure to his family who flew to Bangkok this week to receive it.
"I think my brother threw himself right into the turmoil of the Saffron Revolution, convinced he could help Myanmar by letting the world know what was happening," his sister Noriko says.
"I don't think of him as a hero even though he lost his life. I would prefer people to remember him as a journalist who was willing to keep fighting."
A warning – this story contains the Pulitzer-winning photograph of Kenji Nagai moments after he was shot.
By the time Nagai, who was working for the Japanese news agency APF, arrived in Myanmar the protests had been going on for six weeks, the first significant challenge to military rule for nearly 20 years.
They had escalated in early September when monks across the country, reacting to the assault of monks by soldiers in the town of Pakkoku, had turned their bowls upside down and refused to take alms from military personnel – a powerful act of defiance.
It had caught the government off-guard, but by late September the army was already using force extensively to crush the movement, raiding monasteries and beating dissident monks.
On 27 September, a large crowd gathered near the historic Sule Pagoda in central Yangon, Myanmar's commercial hub. And Nagai – in shorts and flip-flops – was milling among them holding up a video camera. He was a pioneer of one-person videography – today we would call him a news vlogger – using small, hand-held cameras to film himself and what he saw around him.
In the video he took that day, seen now for the first time, Nagai records the moment trucks full of soldiers appear at Sule Pagoda. Speaking to his camera, he says: "The army has just arrived, and they are heavily armed. Yet more people are still gathering in front of the pagoda."
It is the last thing he says. Shortly after that his video stops.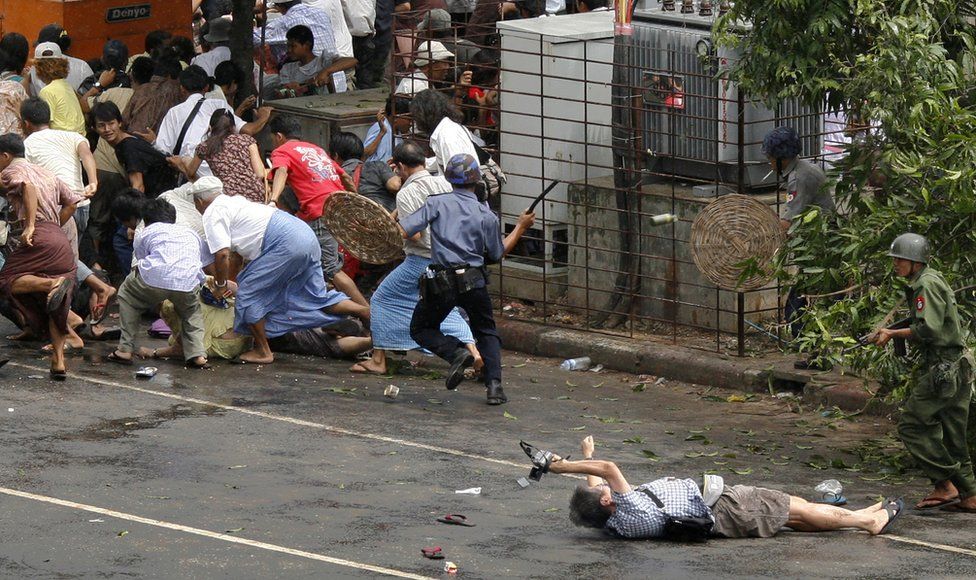 Other journalists, filming from the pedestrian footbridges above Sule Pagoda road, captured what happened next. A volley of tear gas and shots sends protesters running for their lives. Then a single shot rings out, and Nagai is thrown to the ground.
"The police and soldiers formed three lines on the Sule Pagoda side of the road," recalls Myint Yee, a Burmese journalist who was also filming from the bridge.
"At that point I saw Kenji Nagai filming the security forces from close up. I thought he was very bold. I heard the first shots, which were fired into the air. Then the soldiers marched into the crowd and started beating them. Mr Nagai was there. I heard a gunshot and saw him fall down. After that I could see no movement."
Soldiers are then seen carrying the journalist's body away. There is no sign of his camera, which he was still gripping as he went down. When his body was returned to Japan 10 days later with some of his possessions, the camera was not among them.
Nagai's family and the Japanese government demanded an investigation. But the then-military government claimed he had been killed by a stray bullet. The family also asked for an apology.
Sixteen years later, and after the death of his mother, his sister Noriko is still waiting. She also kept asking for the camera he had been holding when he was killed, of which the family made a model to place on his grave in his hometown of Imabari.
What happened to the camera is unclear. But eventually the dissident news organisation Democratic Voice of Burma, some of whose journalists were also covering the protests on that day, managed to track the camera down, and extract the tape inside, so that Nagai's final video work could be preserved.
It invited Noriko to Bangkok to see that video for the first time – and to take her brother's camera home with her.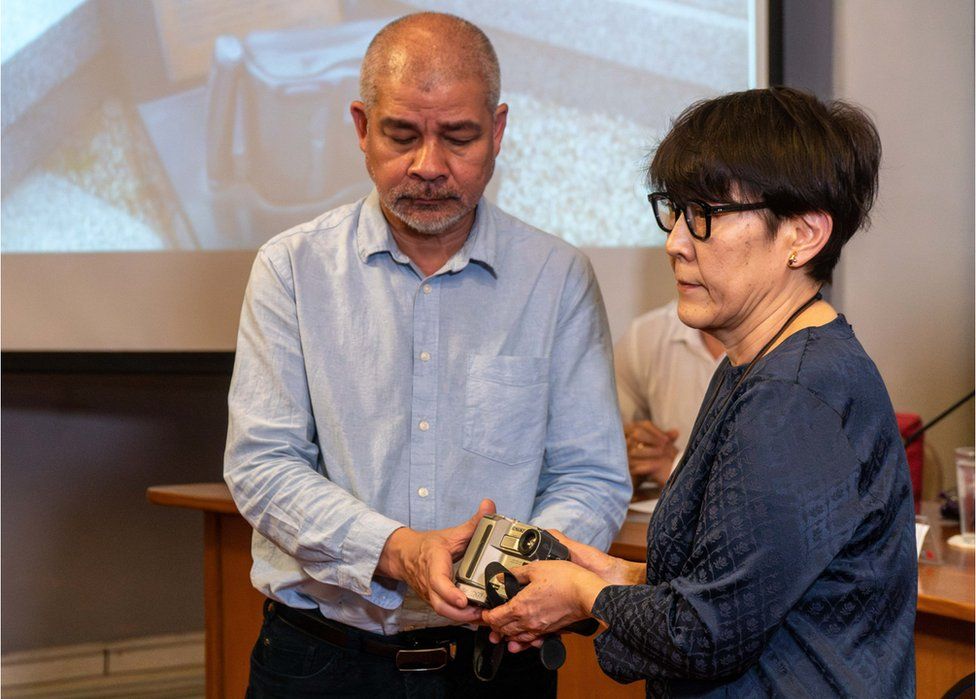 Shawn Crispin, the South East Asia representative of the Committee to Protect Journalists, who was at the handover of the camera, accused the government in Japan of failing to push hard enough to reveal the truth about Nagai's death.
"The Japanese government has implicitly helped to cover up the circumstances of Kenji Nagai's murder by not revealing the results of its own autopsy. It has shamefully prioritised maintaining good diplomatic relations and strong commercial ties with Myanmar's generals over pursuing justice for Kenji Nagai," he said.
The Saffron Revolution lasted for less than two months, but was significant at the time. Despite the overwhelming repression ever since the military brutally crushed an uprising against its rule in 1988, the people of Myanmar showed they were willing to risk their lives to express their yearning for change.
But a whirlwind of dramatic events quickly eclipsed it.
The following year a devastating cyclone killed at least 150,000 people. Paranoid about foreign interference, the military government was slow to accept international aid.
Two years later, it held the first election in 20 years. The military's own party was guaranteed to win when the National League for Democracy led by detained leader Aung San Suu Kyi boycotted it.
The US dismissed the election as "totally illegitimate and without meaning". Yet within days Ms Suu Kyi would be released from house arrest, followed by thousands more prisoners in the next two years. It was a remarkable and unexpected democratic opening that lasted until the 2021 coup, giving the Burmese their first real hope of better and freer lives in half a century.
Many observers believed it was in part the shock of seeing so many rise up in anger during the Saffron Revolution that persuaded Myanmar's military rulers to relax their hold on power, and cut a deal with their nemesis Ms Suu Kyi.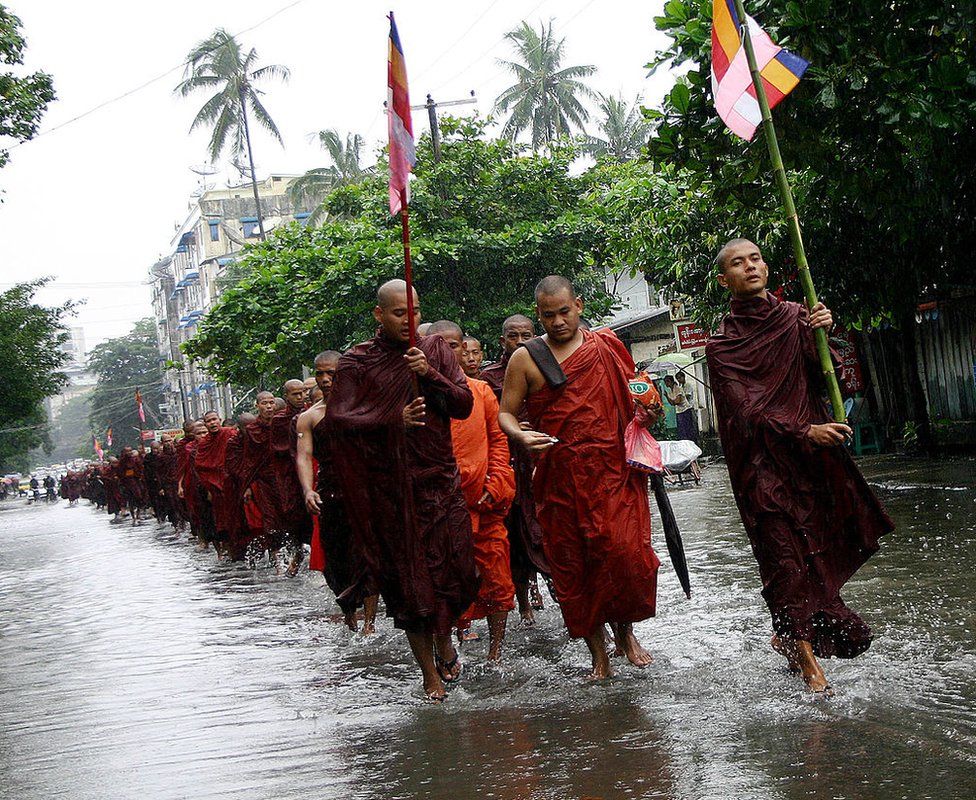 Yet when the generals brought the democratic experiment to a crashing halt with their coup two years ago, memories of Kenji Nagai, and all the others gunned down in the Saffron Revolution, told the Burmese people what to expect when, once again, they came out in protest.
Among the thousands killed by the security forces since the coup are four journalists. Dozens more have been jailed.
When Kenji Nagai was shot, at close range, by a soldier to whom he posed no threat, there was outrage expressed all over the world at such a needlessly callous act. Sixteen years later, the sheer scale of the violence inflicted on the people of Myanmar by their military rulers is losing its power to shock, so routine now are attacks in which multiple lives are lost.
Kenji Nagai's family say they hope that the recovery of his camera, and the poignant video material found in it, can help to revive their campaign for his death to be explained, and eventually for accountability for all the other deaths of those documenting or opposing military rule.
Source : BBC